We all know that moving house is tough. With tasks such as scheduling with a removals company, packing, and notifying everyone about the change, moving can be overwhelming. During this time, the last thing you probably want to worry about is cleaning your home for the new owners. That's where cleaning services come in! Read on for the costs and benefits.

How much should you expect to pay for cleaning services?
If you are looking for cleaning services, you can either hire them from certain removal companies or dedicated cleaning companies. The prices greatly differ from company to company so the best way to gather accurate prices is to contact these service providers directly.
However, we have compiled the following average prices so that you know what to expect.
Average Costs Of Cleaning Services
Cleaning Services
Details

Average Price

Regular cleaning
- Weekly cleaning of designated areas of your home

€17 per hour

Deep cleaning
- Thorough cleaning of your home
- Focus on kitchen and bathrooms
- Price depends on the size of your home

€150 - €300

End of tenancy cleaning
- Cleaning your home for after you move
- Price depends on the size of your home

€150 - €250

Carpet cleaning
- Price depends on the rooms you want to be cleaned and size of your home

€50 - €120
The actual price that you'll pay depends on the size of your house. For example, larger homes take more time to clean, increasing your costs. For fixed rates, cleaning prices are adjusted according to your home's size and the extent of the job.
Get help moving house and cleaning at the same time
If you are getting ready to move house but want to make sure both your new and old homes are ready, then hiring cleaning services is your best course of action. Compare the prices of services offered by moving companies easily by sending a quote request. You'll obtain 6 non-binding quotes in return, all from our free, easy-to-use request form.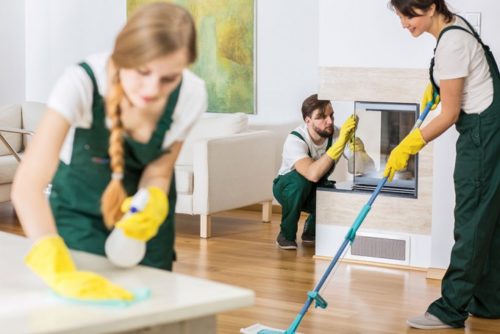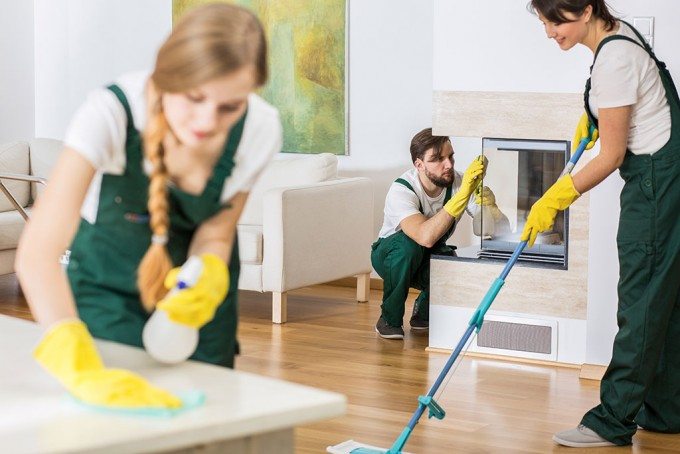 The different types of cleaning services
Hiring someone to clean your house comes in different forms. These differ on the focus and thoroughness of the cleaning service. Here we give short explanations for the tasks involved with each cleaning service type.
Are you worried about keeping your home clean? Then it's definitely worth considering arranging for regular cleaning of your house. With your work, social, and family life, you might not have much time to clean your home—and you probably don't want to spend your weekends doing so. Professional cleaners will take this burden off of your shoulders.
Cleaners will come to your home on a regular basis, usually weekly or bi-weekly. They'll take care of all unclean spaces in your home. You are able to specify the areas you want cleaners to tackle, so if you just need help with your kitchen and bathrooms then you're covered. Regular cleaning usually has a monthly rate rather than fixed prices of other cleaning services.
A deep cleaning is much more thorough and time-consuming than a regular one. As such, deep cleaning usually happens once or twice a year. Your kitchen and bathrooms are the rooms that will most likely accumulate dirt, grease, and dust that is difficult to get rid of. For this reason, deep cleaning usually focuses on these areas.
However, that does not mean the cleaners will neglect the rest of your home. Deep cleaning is very thorough and involves a few of the following:
Cleaning and polishing of countertops and sinks
Removal of any grease and mould
Cleaning and dusting of cupboards, drawers, and cabinets
Descaling of ceramic basins, showers, and toilets
Cleaning and sanitisation of floors
Vacuuming and dusting rooms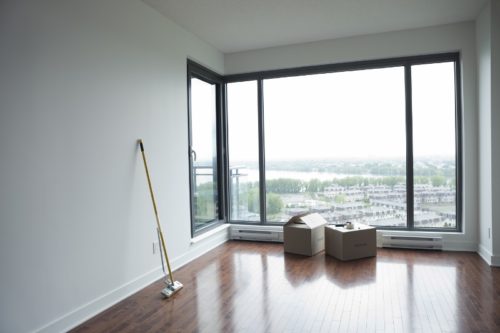 When moving, you'll need to leave a clean property to leave to your landlord or the new owners. However, packing and loading all of your items onto the removal van can leave your old home a bit messy. This is where end of tenancy cleaning is very useful.
Professional cleaners will clean the empty property to make sure it is ready for the new tenant. It will also ensure that you get your entire deposit back. Since you need the property to be spotless and almost like brand new, end of tenancy cleaning is similar to a deep clean. They'll go through most of the tasks included in a deep cleaning.
In some cases, the only help you need is with cleaning your carpet. Over years, plenty of dust and particles become trapped in your carpet, not to mention stains. Carpets are notoriously difficult to clean properly—you'll need dedicated carpet cleaning machines.
Carpet cleaning also helps remove odours, hairs, and allergens, refreshing the space. Purchasing carpet cleaning services is incredibly helpful after you have moved and need to tackle tough stains. It will also help you to keep your deposit.

Benefits of hiring cleaning services
Hand over a clean property
The main benefit of cleaning services is that you'll be able to turn over a pristine home to your landlord or the new owners. It is a sign of courtesy to the new homeowners; a clean and empty home is always pleasant during the chaos of moving day. It also ensures that you get your deposit back in full from your landlord.
Hiring cleaning professionals is not only helpful for your old home. They also ensure that your new home is ready for you. If you're moving to a different property, cleaning services will make sure it is clean. For a newly-built home, it's important to give it a good look over, clearing away dust and dirt from the building process. You'll get the fresh start that you deserve.
Clean any spots you might miss
When you are getting ready for a move, you'll be pressed for time. The lack of time means you won't be able to be as thorough in your cleaning as you would wish. Professional cleaners will focus all their attention on one job: cleaning. They'll clean areas that most people will miss, going through all every nook and cranny and leaving a sparkling, spotless space.
Remove stress and hassle from your move
With professional cleaning services, you'll have one less thing to worry about. Instead, you're able to prioritise and focus on other, more important matters. Leaving the dirty business of cleaning to professionals mean you have more time for packing, scheduling, and other tasks. Don't worry about last minute scrubbing the floors and wiping countertops—leave it to a professional.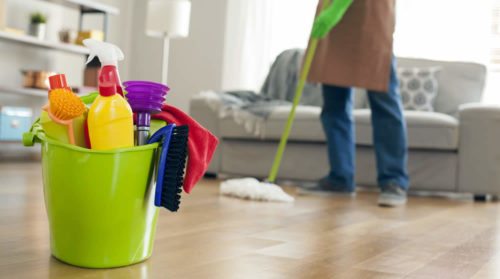 Save 40% on cleaning, as well as your entire move
Looking for a moving company that offers cleaning services is difficult. Instead of going through your list of companies one by one, ask multiple businesses at once. It'll save you time and money—by comparing prices, you'll find the best deal that matches your needs. You'll receive up to 6 non-binding quotes at a time, making it easier to examine your options.