Are you planning on relocating to the Americas and don't know where to start? Whether you're moving to the United States, Canada, Mexico, or even Argentina, there's a lot that goes into planning and executing a transatlantic move, so it's smart to leave it to the hands of an experienced professional who will dot the i's and cross the t's of your relocation.

The cost of moving to America
Thinking about an intercontinental move may feel like a big challenge, but don't let the 5,000+ kilometres worth of ocean scare you away. Yes, that's a lot of ocean to cross, but you'd be surprised to know how seamless the move can be with the right international removal company.
Whether you're eyeing out a new life in North or South America, the costs will vary significantly based on your country and city destination as well as the weight of your cargo. Below is a table with the 20ft and 40ft shipping container average costs to the most popular countries people tend to move to within the American continent.
| Destination Country (Port City) | 20ft Shipping Container | 40ft Shipping Container |
| --- | --- | --- |
| United States of America (New York) | €1,650 - €1,824 | €3,135 - €3,466 |
| United States of America (Los Angeles) | €1,745 - €2,228 | €3,350 - €3,750 |
| Canada (Montreal) | €1,980 - €2,540 | €3,782 - €4,280 |
| Canada (Vancouver) | €2,230 - €2,890 | €3,950 - €4,550 |
| Brazil (Rio de Janeiro) | €2,780 - 2,990 | €4,860 - €5,820 |
| Argentina (Buenos Aires) | €3,560 - €3,950 | €6,029 - €6,948 |
| Chile (San Antonio) | €4,922 - 5,829 | €9,486 - €10,336 |
| Mexico (Veracruz) | €3,490 - €3,739 | €6,033 - €6,840 |
To get the most accurate price estimates your best bet is to fill out the free quote request form and let us know your specifications– you'll receive up to 6 personalised quotes from already vetted and trusted professionals for free!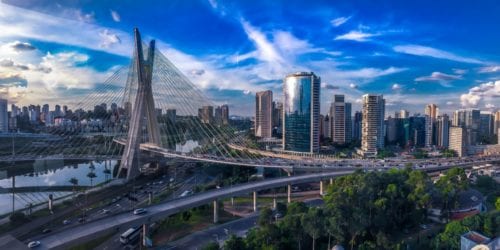 Transport methods to consider when moving to America
For the first portion of the move, you have two ways to transport your belongings, via sea or air freight. Shipping your goods via sea freight is the most cost-effective option. It may take longer, but the speed of travel compensates for the high cost of air freight. Once your belongings have reached your destination country, you can choose to transport them to your destination house via train or truck depending on the country's infrastructure. Canada and the United States have rail freight transportation between big cities. As for Mexico down through South America, your best bet will be to transport your goods via truck.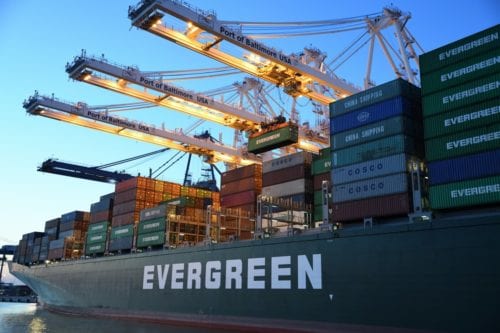 Two main types of international moves: door-to-door and door-to-port
There are two main types of international removals: door-to-door and door-to-port. These differ depending on where the pickup and delivery of your goods should be carried out between a residential address or a port. One important thing to keep in mind is that for door-to-door international moves, the removal company is in charge of managing customs clearance in both origin and destination. Otherwise, with a door-to-port type of service, your agent at destination will need to provide the documents required for customs clearance as well as pay the necessary taxes and duties. When possible, it is recommended to opt for door-to-door service in order to avoid unnecessary logistical stress.
Additional services to consider when moving to America
Aside from the actual service of shipping your belongings to America, you may also be interested in other types of services, such as packing, cleaning, dismantling, storage, or even the removal of delicate items, such as a piano. The table below lists out cost estimates for each of these additional services.
| Service | Details | Price |
| --- | --- | --- |
| Packing and Unpacking | Expert packing and unpacking of items and furniture | €425 - €1000 |
| Cleaning | Cleaning of old and new house. Price depends on the size of your home. | €130 - €285 |
| Dismantling and Assembly | Disassembling furniture to prepare for packing and re-assembling in the new home | Starting at €125 |
| Storage | Use of storage facility for 1 month. Price is dependent on the storage unit size. | €30 - €265 |
| Safe Removals of Delicate Items | Proper care and specialist equipment for safe removal, such as pianos. Varies widely depending on the value of your goods | Starting at €120 |
General tips for your relocation to America
Check to see if your removals company offers some sort of "scorecard," which can track service and cost. Having a source to reference for all of your added costs, agreed pickup and delivery times, response to customer service inquiries, etc, comes in handy when overlooking the logistics of a big move.
Before packing, take note of the household items that are worth the shipping cost. It's easy to scratch off many electrical appliances since the sockets and voltage are different in North and South America.
Separate and carry your most valuable possessions with you rather than among the rest of the things inside the shipping containers.
If you are shipping your belongings via sea-freight, you'll most likely arrive before your belongings do. Make sure to separate your essentials for your first days, if not weeks.
Legal documentation when moving to the United States
As an Irish citizen, you are able to enter the United States for up to 90 days as part of the ESTA Visa Waiver Program (VWP).
If you're planning on spending more than 90 days in the US, you'll need to be a Green Card holder which will allow you to permanently live in the country, work, and settle down with your family.
The most common types of Green Cards include: Family Sponsored Green Cards, Employment Sponsored Green Cards, Returning Resident Green Card, and Diversity Visa Green Card.
Compare removal costs and save!
Planning a move across the world can be quite a challenge! Luckily, there are removal companies who have paved the way for a seamless move, no matter the destination. While there are many variables factoring into your total cost, why not request several quotes from different companies to compare and save on your international removal costs. With a matter of a few clicks, you can let us know your moving needs and receive up to 6 personalised quotes for free!