Whether you are moving to Dublin or leaving the big city, you are well covered. In such a large city, you have many options out of the removal companies Dublin has to offer. This page will show you the details on pricing and advice for finding removal specialists for your Dublin move.
How much do removals cost in Dublin?
It is important to have a general idea of removal company prices, especially considering that renting or buying property in Dublin is incredibly expensive. Removal costs are affected by multiple factors:
Volume of items to be transported, measured in m3
Distance between your new and old homes
Accessibility of your houses
Timing of your move
Supplementary services
The following table shows the average price ranges for moves shorter than 50 kilometres and longer trips.
Average cost of local and long-distance moves
| Number Of Rooms | Local | Long-Distance |
| --- | --- | --- |
| 1 | €170 - €395 | €450 - €565 |
| 2 | €300 - €450 | €510 - €680 |
| 3 | €450 - €735 | €905 - €1,015 |
| 4 | €735 - €960 | €1,015 - €1,130 |
For your moving project in Dublin, there are additional costs to consider. These are dependent on two prominent issues with Dublin: traffic and parking space.
Additional Costs
Cost Type
Details

Average Cost

Tolls
- A fee for driving on designated toll roads throughout Ireland
- Price depends on road and vehicle type

€1.90 - €6.30

Parking Permit
- A parking suspension to use a parking space
- Price depends on your area

€12.70 - €50

Packing
- Professional packing of your belongings
- Packing materials may be included or excluded in the price

€340 - €450
The toll charge applies to vehicles driving through one of Ireland's 11 toll points. The fee ranges from €1.90 to €6.30 and is payable at the toll barrier, online, on the phone, or at a designated Payzone outlet. It must be paid by 8pm the following day of your journey. The toll charge could be included in your final removal bill so it is a good idea to discuss this with your removal company.
The second issue that affects your Dublin removal is the parking. It is always better to obtain a parking permit or suspension well in advance of your moving day. Depending on the package with your moving company, the responsibility of applying for a parking restriction may fall to you. Some house movers in Dublin arrange for parking permits on your behalf as an extra service so be sure to discuss this with your company.
The best way to save on your Dublin removal
Since property prices are very high, you probably would want to save as much as you can for your removal. The easiest way to do this is to get quotes from multiple companies before you decide which one to hire. The form below takes only 1 minute, is non-binding, and can save you up to 40%. Send in a formal quote request and soon 6 removal specialists will reply with their best price offers for your move to or from Dublin.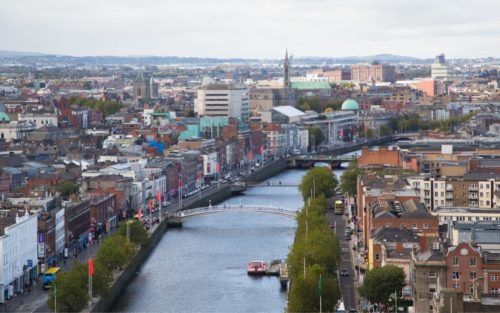 What can a removal company do for your Dublin move?
Even though you have found a house in Dublin, it is not an easy city to move to or from due to the complex network of roads and traffic. Knowing the services offered by removal companies in Dublin mean you will reap their benefits.
Leave the driving to someone else. You will not have to negotiate the narrow, busy streets of the city if you hire movers. If you are unfamiliar with your new area, driving around will quickly become tiring, and you will lose valuable time. With a local moving company from Dublin, they will know the best travel times and routes, ensuring that your move will not have any significant delays.
Removal specialists have the knowledge of the areas. This includes the best places to park their vehicles. Local companies know where to park their vans for easy loading, reducing the amount of time to complete your move. However, it is always advantageous to get a parking permit so that the van can park in front of your property to speed up loading and unloading times even more.
Less hassle. Whether you are moving to the bustling city, or relocating away from Dublin, you will be entering a new environment. These new surroundings can be overwhelming, especially with the stress of moving day. Why go through this burden all on your own when there are specialists who can do the job for you? Movers take away the hassle by packing, loading, and transporting your belongings safely and on time.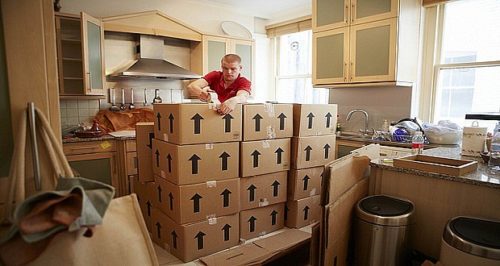 Tips for finding the best company for you
Ask your friends and family for references. Getting recommendations from people you trust, as well as hearing their personal experiences with removal companies is one of the easiest ways to narrow down your search.
Choose a local removal company. Movers located in the area of your new home have a better understanding of the region. They know the best routes to take, times when to avoid certain roads, and lessen the time you spend trying to find your way through narrow Dublin streets.
Look for certified moving companies. For larger moves, look for members to groups such as the Fédération Internationale des Déménageurs Internationaux (FIDI). This means that your movers are reliable and have passed the top quality standards enforced by these trade organisations.
Move on a weekday. Schedule your big day so that it falls between Monday to Thursday. Most people prefer to book their moving day on weekends, bank holidays, or the first or last day of the month so companies can charge a higher price. On busy days, removal crews could be stretched thin meaning you may have to settle on movers with less experience.
Visit your new address beforehand. This way, you can scout for potential parking spots. If you do not want to risk incurring any parking fines, obtain a parking suspension so that the van can park directly in front of your new house. For more convenience, find a company that have a service to apply for permits for you.
Use these tips together with our guide on our moving house page so moving to your new home will be as smooth as possible.
Compare at least 3 removal companies. Seeing multiple movers' prices together makes it much easier to see which company best suits your needs. While it may seem that gathering quotes from different specialists takes a lot of time, it is actually very simple. Provide your information below and receive up to 6 companies' quotes for your move.

This no-obligation quote request takes only 1 minute to complete, after which you will be able to choose the perfect removal company for your Dublin move.