Moving abroad is an exciting prospect but a daunting one, even if it is just across the Irish Sea to the UK. In the 21st century, this is still a colossal challenge but with a professional removal company this task is simpler than you think. From the first phone call to unpacking the first box, we've got all your needs covered. Read on for all the knowledge you need to move from Ireland to the UK.
Costs of moving to the UK
Buying a property in the UK is just the first part of moving. The second part is getting there with all your treasured belongings. No matter whether you've purchased an already furnished property or an empty new build, you will have personal items that you wish to take with you. Small personal items might be able to fit in a suitcase but most items will need to be shipped or air freighted. This is especially true of families with young children. There are several variables that have an impact on cost, such as quantity and distance, and it's worth noting that air freight is typically more expensive than a shipping container. Please consult our pricing guide below for a rough estimate on international removals.
Type Of Cost
Cost Details

Price Range

Packing & Unpacking
- Expert packing and unpacking of your belongings

€85 - €445

Insurance
- Varies on amount and type of goods being transported

Starting from €85

Storage
- Added cost while waiting on transit for goods
- Secure place for temporary storage

€85 per month

Total price

€950 - 2400
Get free, personalized quotes now
The only way to know the price of your removal is getting in contact with companies near you. Get different quotes, tailored to your specific needs, in just one quick and simple request form. These non-binding quotes will make moving to the UK a simple and cost efficient endeavor whilst reducing the stress of contacting individual companies themselves.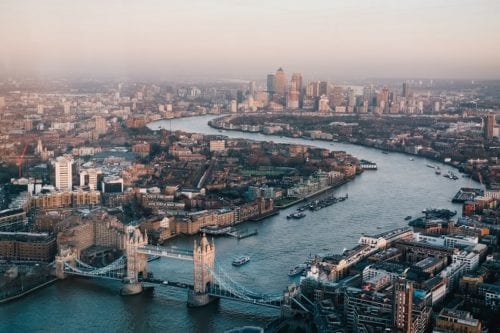 How does moving to the UK work?
After picking your desired company, the removal continues just like any other domestic removal in Ireland. The chosen company will most likely charge a set fee to load and remove your property but rather than removing your possessions to a new home, they go into a shipping container. From here the shipping container will be handed off to a shipping company who then make all the necessary arrangements to ship your property to the UK. Upon arrival in the UK, a second removals company will collect your goods and can either deliver them straight to your new home, or if you still need to make living arrangements, a storage location. With busy goods ports all over the UK, most Irish removals firms ship to the UK daily, allowing excellent accessibility and time frames. If you speak to your chosen firm, they can confirm the exact port your goods will arrive at and, the duration of transit times.
Shipping isn't just limited to ocean-going vessels either. Essential or urgent goods can usually be shipped via air freight. The transit times for air freight are considerably less but do cost a significant amount more than shipping containers. You should also bear in mind that smaller items may not warrant an entire container and sometimes you can save money by sharing a container with others.
What benefits are there to hiring a company for this?
Moving to the UK is no easy task for most people. Professional Irish removals firms that specialize in international removals will be able to handle all the hard work for you. Liaising with multiple companies such as storage depots, freight forwarding firms and the UK removals company is a logistical nightmare for someone unfamiliar with international removals. This intense workload is very unmanageable for just one person but, for most international removers, is just a standard days work. The other benefit of hiring a company is their contacts. Knowing who you need to speak to, when you need to speak to them and why is a a daunting task and, if not done properly, could see your valuables not showing up on time or in the right place. With an established Irish removals company, you won't have to worry about this.
Getting the right International Remover
As with any trade, getting the right company for the job is a key part of success and this still applies to removals. You will want to check a few things to make sure you've found the right company for your move to the UK. Reviews and recommendations are a good place to start as this is direct feedback from their previous clients. Checking for registrations with a regulatory board, such as the International Federation of Freight Forwarders, is a great start too. These registrations are a hallmark of high quality removals firms with great reputations.
Communication is another key part of the right company for you. Moving abroad is a big deal and a company that can reliably keep you informed and answer any questions you may have is incredibly beneficial. The final part of getting the right removals firm is the cost. Getting multiple quotes, comparing the prices with their reviews, and just talking with your prospective companies is a great way to find your perfect removals firm.
Useful tips for moving to the UK
Housing costs in London are very expensive. Unless you have your heart set on living in the capital then other cities like Cardiff or Manchester can make a great place to be at a cheaper living cost.
Lists are your best friend. When moving to the UK, there's a multitude of different services and offices you will need to register with. Making a list of all these different services, such as insurance and a General Practitioner (GP), is essential to ensuring you don't miss out on the perks of living in the UK. You will also need to register with the local council for tax purposes.
The UK has great public transport links; do some research into the area you have chosen to live to see if it might be cheaper to catch a bus than driving. London has an excellent service called Oyster which is great for saving money in the capital.
If you are an EU citizen with a full driving licence, then there is no need to exchange your licence straight away. In fact, you only need to exchange it for a full UK driving licence when your EU licence expires.
Schools are in high demand in the United Kingdom so if you're moving with young children, you will need to start looking for their new schools straight away to get the best options.
Request your quote and move easily to the UK
The best tip of all, however, is to compare quotes from different companies for your removal to the UK. This is a quick, pain-free process and you will receive quotes from different companies and some of the best offers on the market. Get your quotes now with our easy to use form and relax as you save money, time and stress with a professional Irish removals company.