Moving from one residence to another is commonly said to be among the most stressful things you can do during the course of your life but it does not need to be that way. Seeing all of your precious possessions packed into one or two removals vehicles can inevitably leave you feeling anxious. However, knowing you have packed everything well in proper moving boxes or crates will help to make you feel assured that you have done everything to protect them. Read on to know more about moving boxes and packing.

How much do I need to set aside for packing supplies when moving?
If you are relocating from your current abode because you have sold it and finalised the moving chain or if you have signed a new tenancy for another property, then it won't be long until your thoughts start to progress to the practicalities of the moving day itself. Your moving day may be completely straightforward without any special factors to take into consideration – like moving rare works of art or shifting things to an overseas location, for example – but it will involve one thing that all moves have in common: packing possessions up ready for the big day.
In many cases, you will have storage boxes already available for certain items. You might have plastic crates holding old clothes or even a filing cabinet that stores your paperwork. However, these won't be enough on their own and since they are already in use, you will still need some other way of storing their original contents. Purchasing moving crates and boxes as well as protective packaging is essential to make sure that your belongings are looked after properly during transit.
Not only does it mean that items remain organised as they are transported for you, but it makes it easier for removals operatives to lift and handle your possessions in the proper manner meaning that they are less likely to be dirty, dropped or even accidentally broken. The table, below, gives a fair indication of what you should expect to pay for packing supplies for an average house move.
| Type of Packaging | Approximate Cost |
| --- | --- |
| Small box | €2.50 each |
| Medium box | €3.50 each |
| Large box | €4.00 each |
| Clothes box with bar | €11.00 each |
| High-quality tape | €2.00 per roll |
| Bubble wrap | €10.00 per large roll |
| Packing paper | €12.00 per 500 sheet ream |
| Moving cover | €4.50 each |
Of course, the first thing to note is that the larger the property you are moving out of, the more of each item you will need. People who house share and only have a room full of personal possessions can probably get away with a couple of crates and a clothes box – an item in which you can hang your clothes like a kind of temporary wardrobe. On the other hand, you may find you need dozens of boxes and moving covers if you live in a four or five bedroom property.
Find a moving company that helps you pack
You can obtain some of the best pricing for these sorts of items by going to a professional removal firm for them. Not only will they carry out your move for you but they will have the expertise to let you know how many of each item you might need which helps you to avoid overspending. Obtain up to 6 different removals quotations including the likely packaging costs by simply filling in one form. It means obtaining competitive pricing at a stroke for everything you might require on moving day!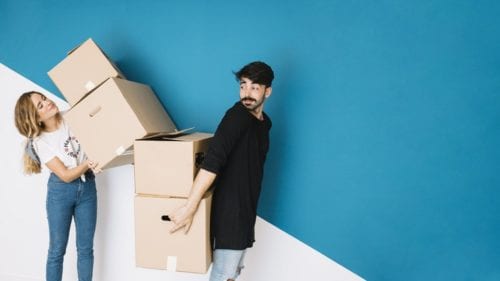 How removals firms can help you with packing
Having informed you that removals firms are one of the best places to go for packaging materials, it is also well worth stating that these sorts of businesses are also very helpful places to turn to for help with the actual packing process, too. Many of the more established removals firms will have employees who are dedicated to helping customers prepare themselves for the move even before the moving day itself has arrived. This is ideal for a wide range of people who are moving. For example, busy business people who might be overseas in the run-up to their move may not be around to start the process of packing belongings into crates and boxes so it can be arranged to have this work carried out for you.
In some cases, people are too elderly or not mobile enough to do all of their own packagings for themselves in which case a staff member from the removals firm is usually sent around in advance of the move to assist. Another common situation comes about following a relationship breakdown or the death of a loved one. In such situations, packing up personal possessions in preparedness for a forthcoming move can generate too much of emotional upheaval and it is decided to rely on a professional packer to do the job instead.

Whatever your reason for having packing work carried out for you – whether it is for some items or for the whole lot – removals firms are experts at fulfilling this sort of role. Possessions will be treated with care and packed away in a rational manner so that, for instance, kitchenware is stored with dining sets or belongings that you'd usually find in a bedroom are stowed with clothes. This means that you will be able to find everything you need in clearly marked boxes once you arrive at your new home to unpack.
When should I begin packing my belongings?
You cannot pack everything in advance. Some items will be needed in the run-up to the move and you'll need some clothes for moving day to change into that haven't been stowed away already. Despite this, you should pack as much as you can in advance. Start with things you use rarely, such as spare bedroom items or the contents of your garden shed, and move on to more frequently used items as your moving day draws near. Disassemble things like spare beds and emptied wardrobes if possible prior to the move to make the job run more smoothly when you removals team turns up.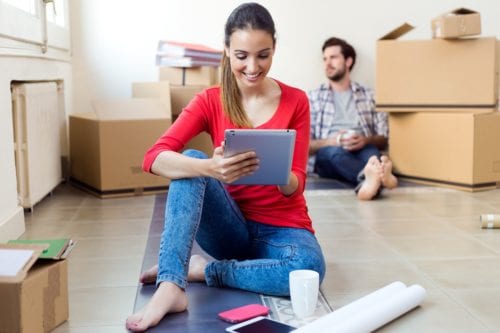 How to save money with packaging costs
Don't skimp on cheap moving boxes when you are starting to pack up. Use sound cardboard boxes or crates as recommended by your removals firm. If items fall out of overstuffed and overly light boxes then they will turn out to be a false economy. You might be able to rent stackable storage crates from your removals firm so ask about this possibility, too.
Another good tip is to save old linen and blankets in the run-up to your move. These can be used to protect furniture that cannot be taken apart easily, such as dining tables and sofas, with no cost attached to them. If you know someone who has moved recently, then make them an offer for their used packaging supplies. It is a good way to obtain cheap moving boxes which are proven to be strong enough for the job.
Don't hesitate to contact multiple removals firms about packaging materials and other moving day costs by filling out the form. With just one request, you will obtain several quotations directly to your inbox without delay.