Are you about to move to a student dorm or a flat with roommates before the start of the semester? Or are you going to return home between semesters? If you're a student looking to move, then hiring help specifically designed for students is convenient and cost-effective. Read on for information on student movers, along with prices and a few tips for student moving.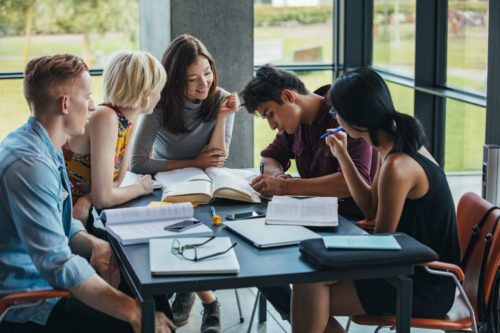 How much do student movers cost?
There is a high degree of variability in prices since student movers have their own way of calculating prices. Also, the price they charge is affected by factors such as:
The volume of your items
The distance of your journey
The time it takes
Extra services you request
Since most student removals usually involve a small number of items, such as enough items to fit into 1 room, a small van will suffice. Additionally, if you need to ship your items, student movers offer especially low shipping fees that are friendly to student budgets. The following table shows average prices of hiring moving assistance as well as shipping.
Average prices of student movers
| Service | Details | Average Price |
| --- | --- | --- |
| Student Removals (Small) | - Transit van with 1 or 2 helpers | €40 - €50 per hour |
| Student Removals (Large) | - Larger Luton van with 2 or 3 helpers | €45 - €70 per hour |
| Student Shipping | - Shipping fees for boxes or bags of items | €20 - €45 per box/bag |
Need help? Get in touch with student movers now!
Whether you are moving into your dorm or simply need someone to transport your items, student movers are there to help you. They understand that as a student, your budget is tight so they have tailored their prices to reflect that. Use our free quote request form to contact up to 6 student removals companies in your area quickly and easily. You can pick the one that best matches your needs, preferences, and budget.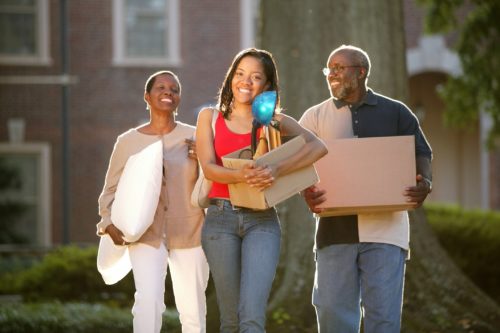 How can student movers help you?
Student movers' help comes in 2 forms: student removals and student shipping. Both services are designed based on the unique needs that students have when moving as well as their budget and time constraints.
Student removals
This service is to help students move their belongings from their old home to their new place. Usually, this is student housing, a small apartment, or a flat they'll be sharing with others before the start of a new semester.
Most moves are relatively small and students' items are usually enough for a single room. As such, a small van or truck will most likely be able to do the job. When you arrange for student removals, you pack up your belongings and the company sends their movers and a vehicle to pick up your items. They'll then drive you to your destination and help you unload.
Additionally, you can request services such as packing supplies, assistance with packing, and even cleaning services, if the company offers them.
Student shipping
Student shipping is meant for those who are simply returning home between semesters or going to travel or work abroad in their gap year. For these journeys, it can be difficult and expensive to bring your luggage with you. This issue becomes particularly important when your backpack and luggage exceed hand luggage size and weight restrictions.
With student shipping, you avoid all of the high expenses and hassle of travelling with large luggage. Student shipping doesn't just apply to bags and luggage. You are also able to ship boxes of your belongings too.
The student shipping company acts as a courier service. They will collect your items at your current location. Then, they will transport your items to your designated destination, whether that is at the other end of the country or across an ocean.
Student shipping companies offer additional services. These include door-to-door collection and delivery, shipping supplies, package tracking, and insurance coverage.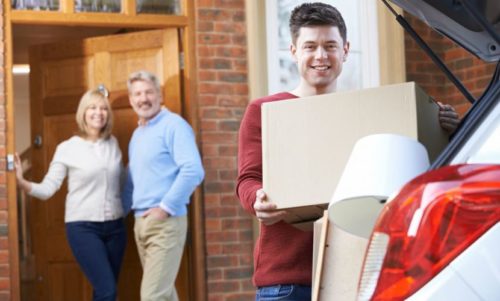 Student moving tips
Moving can be tough. That's why we have a few tips to help the whole moving process easier for you.
Get information from your school
Before you start packing and contacting moving companies, be sure to check your school's website on moving guides and important information about moving into their dormitories. Your school might even have certain rules about moving in and out. Most universities have their own moving guides with specific information about their city or housing.
Give yourself plenty of time
I'm sure you're tired of hearing that you should prepare well in advance ("you should start studying early!"), but unfortunately, with moving, you need to do the same. Getting documents and payments done for your new home, looking for the right moving company, and packing all takes time. That's why you need to give yourself plenty of time to avoid any last-minute chaos.
When packing, it can be easy to fall into the trap of packing almost everything you own. Unfortunately, this will only make your life more difficult since moving will take more work and the costs will be higher. Instead, you need to pack only the essentials. Bring things that you absolutely need—usually, you'll be able to buy anything else in your new place.
Bring a few "homey" items
This is often overlooked and you might not even realise it but you will become homesick. This is especially true if you're attending school in another country. To help you calm down and boost your mood, bring a few things that remind you of home. A few pictures or items that hold special meaning can be of great help during those tough times throughout the academic year.
For more tips, check out our packing tips page.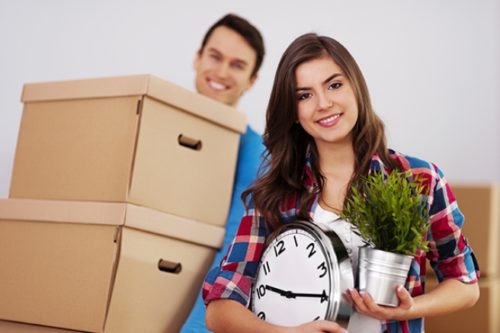 Ready to move? Make it easy and save money at the same time
If you're due to move into student dorms before school starts or looking to go back home once the semester ends, then student movers will help you. To find trustworthy, capable movers, complete our form with your details. You'll receive up to 6 quotes from companies in your area —the quotes are non-binding so you can choose as you please. It'll save you up to 40% off your moving costs too!